HOW DO WE WORK
Good design builds brand value. It balances strategy, technical knowledge, aesthetic competence and suitability for each user and market reality.
Different companies and markets require specific strategies and approaches. Therefore, we start each design process studying the competitive position and client's competences in order to propose the best way to achieve goals.
We offer technical support for research stage, concept creation, mockup and prototyping, detailing and also during the mass production implementation. We operate at development cycle with an eye at innovation and results, offering consultancy in the whole process or integrating our operations to customer innovation processes.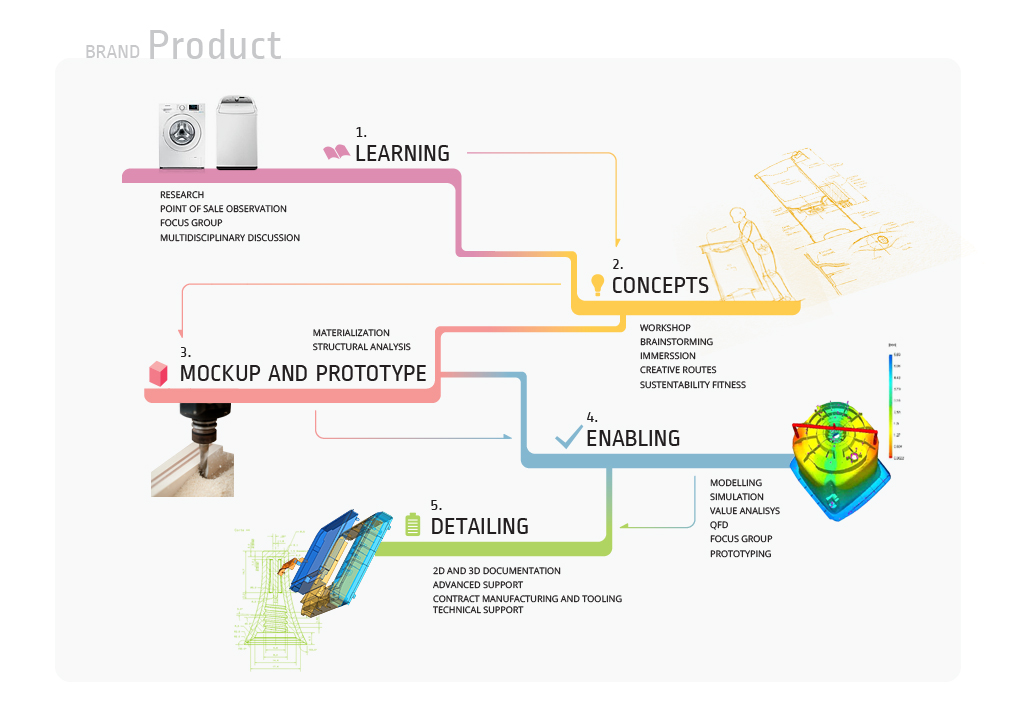 Innovation for improving users life
Sometimes it is difficult for the customer to know exactly what kind of innovation they are looking for, or how they believe to be the best way to improve their lives. Part of the design process is to fetch this information through research or field observation, taking a closer look at purchase and usage behavior. Sometimes, innovation is not on the product itself, but on usability, the way it will be transportated or on user interface. An example of innovation in a established market segment is the door system created for Mueller's washing machine Special: it allows the user to add or remove clothes from the inside after start working, something unique in the world when unveiled.
Innovation for delighting
Something that motivate us is amplifying consumer experience, combining sensorial elements that will connect them to the product or brand, in a significant and enjoyable way. Natura' soap line Ekos redefined the sensorial experience of bath proposing new ways to lather the body.
Innovation for making our clients more competitive
The approach of a product value chain as a whole can release a great potential for differentiation and competitiveness, if we consider all interaction points with skateholders, from raw material manufacturing to disposal. Mueller's Superpop washing machine is a proof of this. The transportation system of the compacted washer, besides providing logistical gain, allows the storage of a higher number of products, and customers don't need a truck to deliver: they can carry it themselves.